Ten years ago, when it was first hatched, the plan was simple. Vicar, Steve Wilkinson would visit every Church of England cathedral to investigate how they use their space creatively to engage with the public and their worshipping communities.
A vicar, his wife and a camper van – one man's tour of English Cathedrals in an emerging post lockdown world.
Even when he was given permission by his diocese in 2019 to take his sabbatical in Autumn 2020 the plan was still simple. It was just a matter of juggling with his team to fill his absence on the service rota at his six tiny village churches in Woodbridge, rural Wiltshire.
And then in March 2020 lockdown came, and we all effectively took a sabbatical from our normal lives. Church buildings closed and travel was banned for all but the essential journeys.
Nevertheless, on August 23 Steve Wilkinson set off with his wife Tash, and Clara their much loved T5 VW Camper van on his planned sabbatical.
First Stop: Christ Church Cathedral, Oxford and an appointment with the Dean, the Very Revd Martyn Percy – the first step on his journey to discover more about how cathedrals use their space and how he might use that in his own context.
The Very Revd Martyn Percy told Steve: "God is expressed in the intimacy of relationship. God meets us in fellowship, not in distance" and advised Steve to use his senses in each cathedral.
"What could I see, hear, (maybe not touch!), and particularly smell. What do the senses feed into your brain that affect you at a deep level? What sense of reassurance, or otherwise, do you get in each place? Should a sacred space smell of the sacred, or the domestic? For many, the smell of coffee and furniture polish is a homely smell which has no place in a worship space, and it's the smell of candles, or incense, or slight damp that they're looking for.
"We spoke of how people don't like their space being determined for them – especially sacred space. We can tell people this is a chapel for prayer, we can provide materials to help in the spiritual process, or to help them think about the character of God or the role of faith, but there is a barrier – if we are too directive and over-zealous in directing people in how they should relate to God the barriers go up. There are things which are much better dealt with in conversation and relationship."
It was the first stop on a 42 tour destination.
Steve is now almost half way through his trip and you can read Steve's blog posts on each cathedral on the links below:
He just finished visiting the Diocese of Leeds, formed from the merging of the historic dioceses of Wakefield, Bradford, Ripon and Leeds, which has not one, but three co-equal cathedrals of Ripon, Bradford and Wakefield.
This is Steve on being 'wowed" at Ripon.
"Ripon is clearly doing something very right. Visitor numbers in August 2020 were just 17 lower than the same period in 2019. Yes, seventeen. That's largely because of an inspired self-created art installation called "A Wing and a Prayer" comprising 10,000 origami angels suspended above the nave. It was deliberately created as an attraction to bring people back into the building after lockdown, with the angels representing and it has succeeded. We'll never know what post-lockdown visitor numbers might have been without it as this installation wouldn't have existed without lockdown, but only down by SEVENTEEN! Well done Ripon.
"Overall, I come away with an impression of a living cathedral eager to serve its community. A warm and informative team of welcomers, and a blend of ancient building, well cared for, with modern chapels and artwork, and that remarkable self-made 'A Wing and a Prayer' exhibition – which you should go and see before it closes at the end of October.
Later, we go to stay with a vicar contact nearby. Her daughter J is into origami, and son T recently had cause to need the services of the Yorkshire Air Ambulance. God weaves strange coincidences into our day.
Please visit that exhibition, or donate via the website: A Wing and a Prayer"
(Editor's note: A Wing and a Prayer is a joint project between the Cathedral and the Yorkshire Air Ambulance to raise funds in lockdown)
Pilgrim Passports
But don't take Steve's word for it!
Pick up your own Pilgrim Passport available in every cathedral or buy here and visit a cathedral near you this autumn.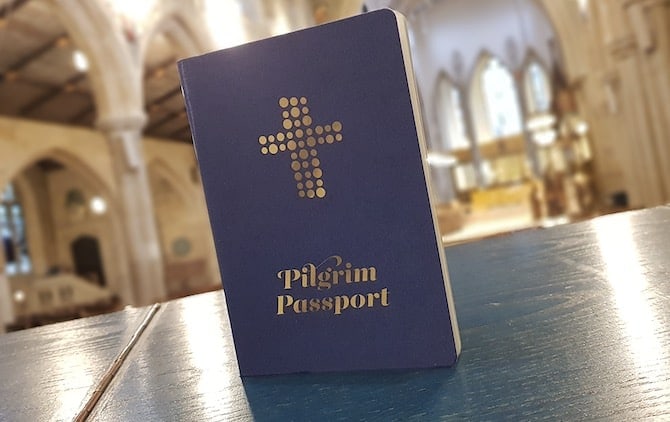 Most of our cathedrals have been awarded the Trip Advisor's Travellers Award 2020 plus you can be assured that every Church of England Cathedral which is able to re-open to the public has achieved the Visit Britain's industry standard and consumer charter mark We're Good to Go. This means visitors can be confident that cathedrals are taking all the necessary steps to help ensure people's safety in line with latest Government and Public Health guidance. You may have to book timed slots for entry or for a service to enable social distancing, face coverings must be worn unless personally exempt, expect one way systems, hand sanitiser, you must abide by the Rule of Six and contact information will be retained for 21 days for Test and Trace.