Cathedrals Innovating and Thriving
17th April 2020
Having successfully fought deeply engrained perceptions to become must-visit heritage attractions last summer, cathedrals are once again showing their willingness to innovate in order to maximise visitor engagement.
Cathedrals willingness to innovate in order to maximise visitor engagement
Cathedrals cannot be discussed at present without mention of Notre-Dame. A year on from the devastating fire that cost Paris vast swathes of its most significant cultural landmark, clergy returned to hold a defiant Good Friday service. This, remarked Archbishop Michel Aupetit, sent a much-needed "message of hope" during the coronavirus crisis.
It would also be remiss to discuss the new, digitally-savvy ecclesiastical frontier without referencing Easter Sunday at Milan's Duomo. An unprecedented performance by Andrea Bocelli was held in its deserted nave and viewed by more than 28 million people in the first 24 hours. While this record-breaking event was big news, it only represents the tip of the iceberg regarding the online response of cathedrals to the coronavirus crisis.
The rise in online popularity of cathedrals is no accident. In England especially, work to transform long-held perceptions of houses of worship began in earnest last year.
Crazy golf in Rochester, Norwich's Helter Skelter, and the moon's surface popping up in several cities throughout 2019 saw England's cathedrals welcome record numbers of visitors during the school summer holidays. When the dust settled on a sizeable achievement, the question was inevitably posed of whether this newfound popularity could be sustained.
The collective response to the Covid-19 outbreak has provided confirmation. Once more cathedrals have demonstrated a strong appetite to experiment in order to best serve the largest audience possible.
On this occasion the institutions are not tackling dwindling visitor figures with whimsical attractions, but fighting widespread isolation with compassion and the application of technologies seldom associated with cassocks and stained-glass windows.
"Fun and faith aren't separate things"
2019 saw many English cathedrals record rises of between 70% and 100% in visitor numbers.
The new #ChurchIsChanging campaign – underpinned by 360 degree virtual online tours, live streamed services, online prayer requests, online organ recitals, and social media support groups – has once again shown that a new generation of clergy understand how Christian organisations must innovate to survive, let alone thrive.
"It is during this difficult period, that we have to find a new way of being a church," states the Dean of Edmundsbury, the Very Revd Joe Hawes.
"Worshipping online, through live-streamed videos on our Facebook page; pastoral care given over the phone; a bank of daily, uplifting music recitals, which our musicians recorded before the building's closure – all evidence that, despite the empty offices, pews and pulpit, we as a church, are still here."
Raising the (church) roof
In addition to a wide array of social media campaigns, live streaming of worship and uploading recorded sermons to YouTube has been offered by the likes of Blackburn, Bradford, Bristol, Chester, Durham, Ely, Exeter, Peterborough, Ripon, St Edmundsbury, Wakefield.
In Salisbury, a Holy Week Pilgrimage digital experience has been developed, with the entire building having been 3D scanned to facilitate virtual tours. In addition, each day from Palm Sunday onwards has seen a 'window of music, reading and prayer' uploaded to the Cathedral's website, with each instalment offering new audio content to engage digital visitors.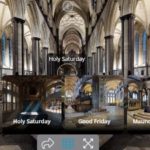 "While it is still not possible to meet in person, we hope to share the experience virtually, through streamed services offering the opportunity to embark on a life-changing journey together, even though we are apart," says Canon Anna Macham.
"Alongside that we are also offering the opportunity to undertake a virtual Holy Week Pilgrimage of your own, a digital experience that can be used as part of personal prayer and reflection."
It hasn't just been technological initiatives that have connected cathedrals to the public during lockdown, with some more traditional endeavours also boosting outreach. At Canterbury Cathedral, for instance, the bells are remotely rung every evening at 8pm in tribute to those lost to the virus and those working tirelessly to save lives.
The Cathedral is encouraging everyone within earshot to record the sound and share via social media. "Communities around the world have embraced the idea of clapping hands to thank publicly healthcare staff and other frontline workers at this time," notes the Dean of Canterbury, The Very Reverend Dr Robert Willis.
"We all know that their vital work is undertaken at great personal risk to themselves. The bell of Canterbury Cathedral will lend its voice to this display of gratitude and also mark a moment to pause and remember those who have died."
Other tributes and initiatives have included Lincoln Cathedral being illuminated with messages of thanks; Bristol Cathedral holding the joyously named Quirentine initiative, with a socially-distant choir bringing the community together for a remote singalong; and Exeter Cathedral running a virtual egg hunt for Easter.
While 2019 was justly heralded a year that belonged to cathedrals, the collective response to the coronavirus crisis shows that these institutions are only just getting started.
A golden new era of visitor appeal may well lie ahead.