September Round Up – Singing Returns
30th September 2020
September saw choral worship returning slowly and safely to many of our cathedrals after six months of silence.
The month that put a spring in our steps with the news that singing was back in our cathedrals.
It even made it back onto the BBC with Portsmouth Cathedral Choir and Guildford Cathedral Choir both making history as the first two cathedrals to perform choral evensong live on BBC R3 since lockdown.
Following the easing of national guidance on singing informed by new research into the transmission risk, all our cathedrals began to draw up plans on how to implement the guidance and bring back their choristers slowly and safely where they could.
The boy and girl choristers returned to Exeter Cathedral with their first public appearance on Monday (28 Sept) singing their first Choral Evensong. The Revd Canon James Mustard, Canon Chancellor of Exeter Cathedral said the choristers' return was a huge boost to the cathedral community, despite the continuing restrictions.
He said:
"Inevitably, the pandemic brings changes to the way in which our choristers can rehearse and perform. But we've just endured the longest period without any choristers at all since the English Civil War, so simply bringing the children back into cathedral life is a really exciting step forward."
In other news, our cathedrals were voted Travellers' Choice Winners in the 2020 Trip Advisor awards plus all those that could open have now achieved  Visit Britain's industry standard and consumer charter mark We're Good to Go. In other awards, Lichfield Cathedral was the only cathedral shortlisted in this year's Museums and Heritage Awards and Winchester came out top of its category for most improved heritage development in the UK Heritage Awards for its Kings and Scribes Exhibition.
The annual national cultural festival, Heritage Open Days, saw Newcastle Cathedral – which is unable to open due to its major building works – open its doors for one day only to give visitors a sneak preview of its £6m National Lottery Heritage Fund project, Common Ground in Sacred Space. Hereford also used this festival to offer visitors a glimpse of the exciting activities available as part of their Eastern Cloisters project.
In September, Worcester Cathedral welcomed over 400 people to their first Cathedrals At Night event offering visitors the chance to encounter the cathedral in a new light from 6pm until 10pm with a varied programme of pilgrimage, hope and reflection. Cathedrals at Night is part of the nationwide initiative to mark 2020 Year of Cathedrals Year of Pilgrimage.
Cathedrals made sure they had Pilgrim Passports on sale and their free cathedral pilgrim stickers to hand as they began to welcome more people back into their buildings this month – including vicar, Steve Wilkinson. Steve who has six small village churches in rural Wiltshire is on a grand tour of every English Cathedral this Autumn to learn how cathedrals use their space creatively. You can catch up with his blog here.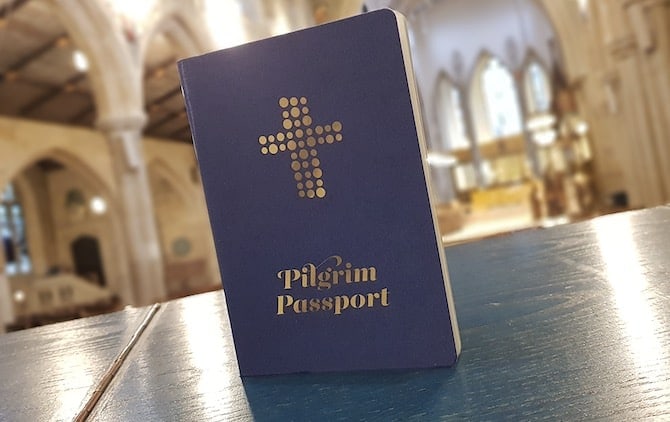 And you can buy your own Pilgrim Passport for just £4.99 on the button below.
Christmas presents? (Ed: just saying)
Over three thousand people visited Exeter Cathedral to see the touring art installation, The Leaves of the Tree designed to give people the opportunity to reflect on the impact the Coronavirus pandemic has had on them and their communities. It is made up of 5,000 steel leaves, each featuring the word 'HOPE', and was created by sculptor, Peter Walker, the Artist in Residence and Artistic Director at Lichfield Cathedral. It will tour a number of our cathedrals over the coming months and opens in Sheffield this Saturday (3 Oct).
The Chester Cathedral Community Cross went up in the cathedral nave for the month of September; a new community art installation that focussed on local people's experience of lockdown.
Cathedrals continued to count the cost of the pandemic with announcements of emergency funding awards to help them re-open safely from the National Lottery Heritage Fund,, support from the Church Commissioners to keep their lay clerks singing, more restructuring, and more fundraisers.
Lincoln Cathedral launched the 'Provide, Protect, Preserve' recovery appeal to raise £1.5million to stabilise finances in the wake of the coronavirus which they announced had taken a huge toll on visitor numbers, events and its pattern of worship and estimated losses of over £768m.
The Dean, the Very Revd Christine Wilson, said:
"This recovery appeal will ensure that we can provide a sacred space for worship, welcome, hospitality and spiritual nurture, that meets the needs of the community as we all continue to live with the reality of COVID-19.
A survey to count the human cost of the pandemic on people and communities was launched in September. The results which look at what happened when the huge variety of weekly social, community and mental well-being events and activities stopped in our churches due to lockdown will be analysed by the University of York to help inform Government and church leaders plan for further lockdown and restrictions.
We'd really value your input to that survey and it only takes a few minutes.
You can complete it on this link > The Human Cost of the Pandemic.
As we came to the end of the month, St Albans Cathedral announced it was planning on lighting up the skies for its communities this Bonfire Night by launching a Crowdfunder to fund a socially distanced firework display that everyone could watch from the comfort of their own homes.
Peterborough and Chichester announced the return of their tours, Bristol announced it would host its first event since lockdown, and Gloucester was getting ready to welcome Luke Jerram's installation of the Earth's surface, Gaia in its nave as a key part of its Beacon of Hope campaign with a programme of events Hope for Creation: Building a Greener Future Together.
Every Church of England Cathedral which is able to re-open to the public has achieved the Visit Britain's industry standard and consumer charter mark We're Good to Go which means visitors can be confident that cathedrals are taking all the necessary steps to help ensure people's safety in line with latest Government and Public Health guidance. Please check ahead as services and opening times may have changed, you may have to book a ticketed slot at some cathedrals, face-coverings are now mandatory in places of worship unless you are exempt, and all comply with the NHS Test and Trace system.