February, the second month of Year of Cathedrals has been a month of firsts!
We brought you the Pilgrim Passport and announced Cathedrals At Night, a simple nationwide campaign that, for the first time, will see every one of our cathedrals open their doors after hours for a free event that will give people the opportunity to experience and explore our beautiful buildings in a new way.
You could say we've been busy!
Bradford started the month with a son et lumiere candlelit pilgrimage around its sacred stones which set the tone for the theme of this, the second month of 2020 Year of Cathedrals, Year of Pilgrimage.
Gloucester's Where There Is Light set huge new visitor records for the usually quieter months of January and February with over 51,000 people engaging with the powerful messaging of their unique light and sound installation that told the story of their county's refugees and asylum seekers.
Further north, Carlisle Cathedral welcomed around 2,000 visitors every night when it became the centrepiece of its city's first City of Light event and lit up its stones with the immersive sound and lightscape, Space, God, The Universe and Everything created by Luxmuralis, the creative team behind Lichfield Cathedral's successful The Cathedral Illuminated and The Great Exhibition events.
Lichfield, meanwhile, was unlocking its secrets with never before seen exhibits including the medieval Books of Hours (pictured) with its exquisitely carved panels for personal devotion. Nurturing Spiritual Life was the cathedral's first exhibition of 2020 – a year in which it will explore the theme Fully Alive and ask what it means to be human.
Birmingham's choristers set off on a pilgrimage of their own up into Scotland with a packed programme of singing engagements and Salisbury kicked off the first event of Salisbury 2020: City on the Move – celebrations to mark the 800th anniversary of the move of the Cathedral and its community from Old Sarum to its present sight – with a specially commissioned light and sound show.
Sarum Lights – created by the Luxmuralis team – told the story of the rich history of the Cathedral and the people who cared for it in light and sound and saw over 11,000 people visit in its first two days while the final show was a sell-out.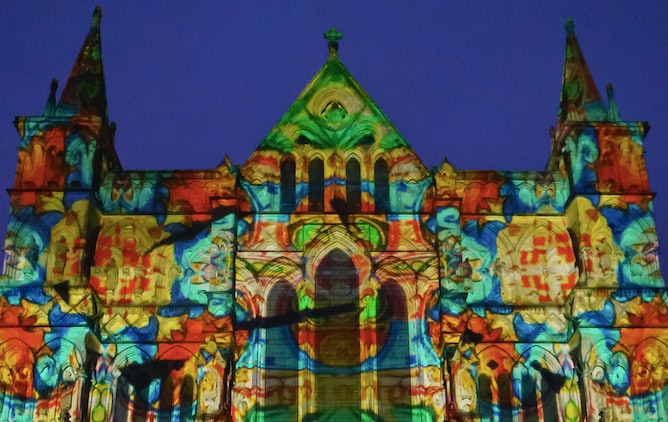 Rochester Cathedral brought you Luke Jerram's Museum of the Moon alongside an exciting programme of events which in its first two weeks had attracted over 80,000 visitors- and the Cathedral was aiming to hit the record-breaking 100,000 before the end of the exhibition early March.
Our Pilgrim Passports arrived – and sold out at the printers within the first week! Don't worry we have more in stock now. Just click the logo below to get yours.
These A6 passport sized booklets devised by two Cathedral Education colleagues, Jackie Holderness at Christ Church Oxford and Portsmouth Cathedral's Sarah Page, are now available to buy in every Church of England cathedral, Cathedral Isle of Man as well as St Davids in Wales as part of the national campaign for 2020 Year of Cathedrals, Year of Pilgrimage.
And the very first Cathedral At Night event was held…under the Museum of the Moon in Rochester Cathedral. Flyers are now available in all our cathedrals with dates throughout the year for every Cathedrals At Night event.
There are some exciting "Nights' planned – a fire garden with fiery sculptures at Wakefield, Hymns and Pimms at Birmingham, music til midnight at Christ Church, Oxford and visitors will be able to explore the heritage highlights of Westminster Abbey including Poets Corner and the Grave of the Unknown Warrior in this its centenary year.
Find all the Cathedral At Night dates across the country here…
February also brought the amazing news that a vestment traditionally thought to have been worn by St Thomas Becket at the time of his murder in Canterbury Cathedral in 1170 is to return to Canterbury as part of this year's commemorations to mark 850 years since his death, and 800 years since his remains were moved from the Cathedral's crypt into a new shrine.
This holy relic housed inside a 17th century glass reliquary, has been venerated by pilgrims for hundreds of years and is expected to be a focus for prayer for the thousands of pilgrims expected in Canterbury this summer especially as it hosts the 2020 Lambeth Conference in July.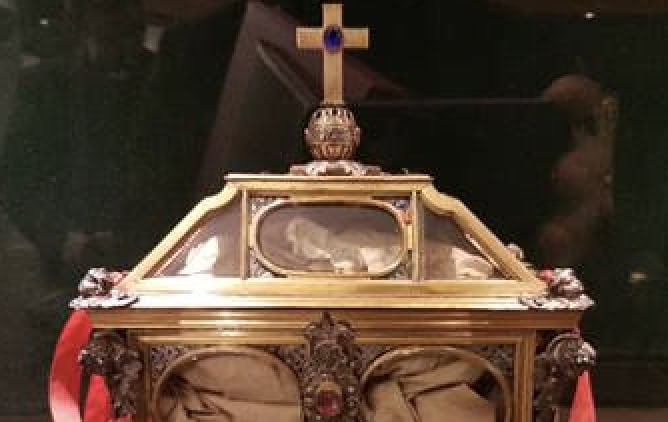 And in other news …..drum roll please…. the fabulous Museum of the Moon is coming to Bristol Cathedral in August, and Durham Cathedral in September! YAY!
Stay in tune with everything that is going on at all our cathedrals – sign up to our newsletter on the link below and follow us on Social Media. It's easy.