Christmas Markets are Back
17th November 2021
Without needing to check it twice, it's definitely "beginning to look a lot like Christmas".
Here are the details of the Christmas Markets taking place Winter, 2022.
Christmas markets are back at our cathedrals – Ely, Exeter, Lincoln, Peterborough, Ripon, Truro, Winchester, St Edmundsbury and more to follow
This week Ely, Exeter, Lincoln, Peterborough, Ripon, Truro and Winchester (named as one of the best in Europe) are all preparing for the return of their Christmas markets.
Please be assured all our cathedrals have put in extra measures to help keep people safe; increasing the walkways and other social distancing measures, some one way routes and timed ticket entries.
Ely's Christmas Gift and Food Fair this year extends into the grounds of the cathedral which is transformed into an outdoor festive village with vintage Victorian carousel.
There will be seasonal demonstrations and musical entertainment including Christmas wreath-making using locally harvested spruce and festive foraging, and Christmas music will be provided by Prime Brass.
Joss Palmer, Event Manager at Ely Cathedral said,
"We are really excited to be having the Christmas Fair up and running for this year. For many people, including staff and volunteers, it has always been the perfect Kick Start to the festive season. 
"Covid is still a big consideration for us and we have several safety measures in place, including limiting tickets, to ensure everyone is safe and has an enjoyable experience. 
"We are also making more use of the lovely grounds surrounding the Cathedral by creating an outdoor Festive Village for food stalls, Christmas merchandise  and, of course, the vintage carousel". 
Ely  Christmas Gift and Food Fair 18 – 20 November 2021. Booking online in advance is recommended.
Exeter's choristers will herald the return of Exeter Cathedral's Christmas Market singing traditional carols on the Cathedral Green to mark its opening this Thursday 18th November.
There are more than 90 festive chalets spread across the Green selling everything from Christmas stocking fillers, decorations and wrapping, to jewellery, fashion, food and drink during this month-long event. And entrance into the Cathedral is free for all visitors during the Christmas Market period.
Managing Director Karen Skerratt of Exeter Gin, one of the stalls, said:
"It's going to be an extra special, super-charged Christmas for all of us. We've massively missed the Christmas spirit and atmosphere you can only get from all the beautifully-dressed stands, sights, smells, Christmas carols and Cathedral backdrop."
Exeter Cathedral Christmas Market 18 November – 18 December. Find out more on the Exeter cathedral website here.
Peterborough Cathedral Christmas Craft and Gift Market opens inside the Cathedral building thisFriday 19th November and Saturday 20th November.
The market stalls will be spread over a wide area within the Cathedral to allow plenty of room to shop without jostling with a crowd. There will also be a one-way system in place and entry times will be staggered to avoid over-crowding at busy times and visitors are asked to book a timed entry ticket in advance to minimise queueing.
Tickets are £2 per person, with under 16s free of charge (booking still required). They can be booked via www.ticketsource.co.uk/peterborough-cathedral.
Any remaining tickets will be sold on the door.
This Thursday also sees the return of Winchester Cathedral Christmas Market – recognised as one of the best in Europe and named in the top ten of Christmas Markets.
Inspired by traditional German Christmas Markets, there are around 100 chalets, all selling seasonal treats, a range of produce and exclusive Christmas gifts and will be open for visitors until 22 December.
The usual ice rink has been replaced this year by a larger food court and a stage which will host a variety of free local performers, including choir groups, community bands, school choirs, city buskers, jazz groups and more.
Winchester Cathedral Christmas Market 19 November – 22 December from 10.00am to 6.30pm Sunday to Wednesday and 8.00pm Thursday to Saturday. Admission to the Christmas Market is free.
Alison Evans, Chief Operating Officer at Winchester Cathedral said,
"We are delighted to announce the return of the Christmas Market to Winchester Cathedral this year. The market is a huge attraction, which many visitors look forward to, so we have made a few changes in order to keep all traders and the public safe.
"The return of the market is also an opportunity to put the difficulties and challenges of last year behind us and to be able to look forward to a wonderful and hopeful Christmas. We look forward to welcoming visitors back this year, with a programme of events and services that will bring festive cheer to all".  
Ripon has extended its Christmas Gift and Food Fair this year to two days and is getting ready to open on Friday 26th November and Saturday 27th November with 95 stalls inside the cathedral building supporting local businesses.
The Cathedral will run a pop-up café and there will be live Christmas music provided by local choirs over lunchtime on both days.
Raworths of Harrogate and Brewin Dolphin of Leeds are supporting the event and  Zoe Robinson, managing partner at Raworths  said:
"As a business partner, Raworths is delighted to play a part in the preservation and development of the Cathedral and to support local community-based events organised by Ripon Cathedral's team such as the wonderful annual Christmas Fair."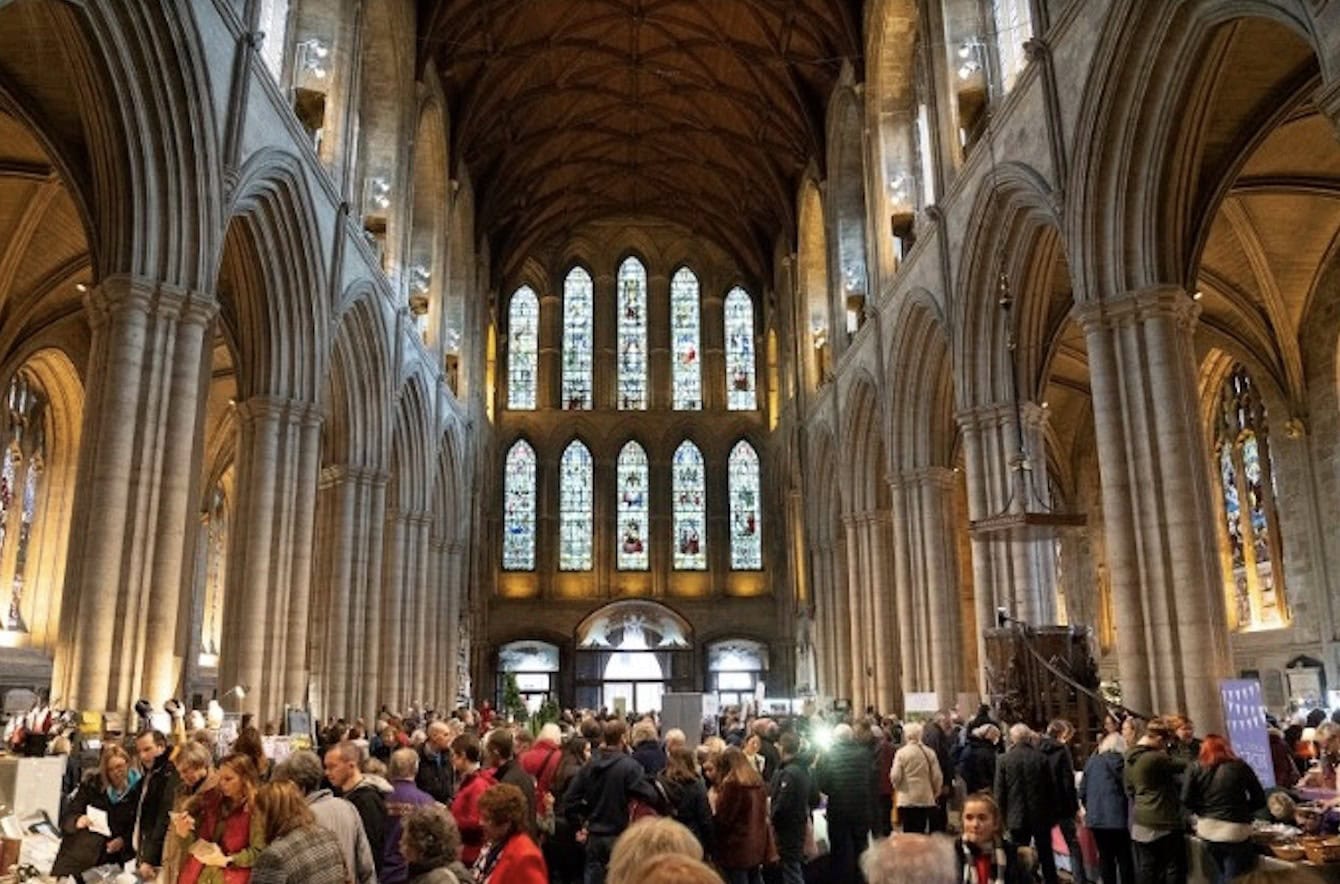 Ripon Cathedral Christmas Gift and Food Fair – 27-28 November  9.30- 4.30pm.  Entry is £5 payable on the door by card or cash or online, entry for accompanied children is free.
And Truro Cathedral will host Made in Cornwall's Christmas celebrating the best of Cornish makers from Monday 29 November – Thursday 2 December.
The four day Christmas Market will take place from 10:00 – 17:00 each day, with the addition of trading until 20:30 on Wednesday 1 December to coincide with Truro's first night of late-night shopping.
In December Lincoln Cathedral hopes once more to be part of the city's Christmas Market.  Subject to government restrictions, the council intends the Market to run from 2-5 December in the shadow of the Cathedral.
There will be 200 stalls, nestled within the medieval square and surrounding area.
During the market period, the Cathedral offers choir concerts, special tours and children's crafts,  as well as mulled wine and festive treats and gifts from its cafe and Cathedral Shop and the cathedral is free to enter throughout the duration of the market.
Lincoln Cathedral will also run its regular pattern of worship throughout the Christmas market with an open invitation for shoppers to come along – including to its very popular advent carol services on the Friday and Saturday evenings at 5.30pm. You can find out more about our services by checking the worship and music page of its website.
On the 25th November St Edmundsbury Cathedral will open their first Christmas Market next week showcasing and supporting local products and produce from small local businesses across Surrey.
Carol singing will take place daily and there are Tower Tours with their unique behind the scenes views of the Cathedral and beyond available, and it will be fully stewarded.
It runs from Thursday 25th November to Saturday 27th November and is open from 10am to 4.30pm.
The Cathedral Marketing Manager, Catherine Rayson, said:
"We're excited to host a Christmas Market and invite both regular and new visitors into our beautiful building.
"The stallholders joining us across the three days of the event represent the exciting small businesses we have in the Bury St Edmunds area and we're very much looking forward to helping them showcase their brilliantly crafted products." 
Products include micro-brewery beer, oak gifts, handmade soaps and chocolates.
In addition to the Christmas Market, Tower Tours can be pre-booked on the webstie at stedscathedral.org
and are available each day at 10.30 am and 1.30 pm.
The Christmas Market is a new venture for the Cathedral and is part of a schedule of events being offered by a range of organisations throughout Bury St Edmunds over the festive period. The event follows current government guidelines for COVID-19 and will be fully stewarded.
Photo credits: Geoff Robinson (Ely)